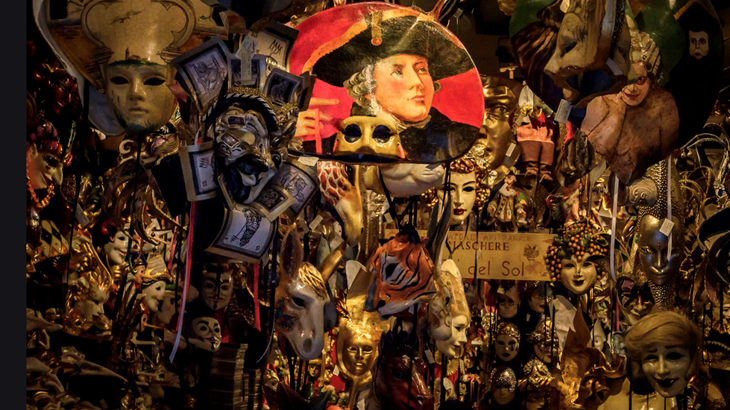 MASKS: A DIFFERENT FACE TO THE WORLD
Our new 'The Art of Perception' blog series, written by Cynthia Allen, is concerned with theater, design and music and explores people's reactions to uncertainty through the lens of 'Perception'. Beginning with how images associated with this never-before-experienced time, such as 'masks' or 'social distance', came into common usage, visually and otherwise, our blog will focus on a theme associated with people's cultural response to and perception of COVID-19.
Pandemics tend to focus the mind. To analyze art in the wake of the novel COVID-19 presents an opportunity to look at how different modes of perception - uncertainty, vulnerability, injustice, aloneness, communication, etc. - relate to various types of art forms. Much like the Bubonic plague transformed art history in the 1300s, COVID-19 has had a profound impact on the world, and in just a few months changed art perceptions. 
Even more than hand cleaner and sanitizing wipes, the mask is perceived as being COVID-19's 'face to the world'; a symbol for people's encroaching fears, their powerlessness to safeguard themselves, their need to disguise themselves, and also their desire to move forward in a positive way. The mask can represent an image that suggests hiding but also promotes communicating in optimistic and innovative ways.
In Medieval Italy, the word 'mask' derived from 'maschera (Medieval Latin)', a covering of the face (with slits for the eyes and nose), shielding or guarding a person against being seen by others. Mask, as a term, was first used in English in the 1530s. The mask has evolved in its usage over time and has been employed in many diverse ways: as armor, decoration, camouflage, entertainment, performance, and for religious rituals or pagan ceremonies since before 9,000 B.C. Ancient Greek festivals, Dionysus cults and Roman Bacchanals / Carnivals utilized masks so that frenzied behavior would not be recognized. In Ancient Rome (ca. 700 B.C.), the word persona was analogous to a mask and has become synonymous with theatrical masks. In the Middle Ages until the 1800s, sculptors cast keepsakes of the dead - people's faces - and Death Masks came into vogue for both royalty and celebrated persons in politics and the arts, among others. There are myriads of ways that masks have been as part of culture and society.
The professional surgical mask was implemented in the late 1890s. Carl Flügge is credited for his substantial contributions to droplet transmission, hygiene, and bacteriology. Flügge first championed hygiene as an independent medical study and is recognized for investigating on how pathogens could be spread from one person to another. In the mid-1890s Flügge demonstrated that even when one is speaking quietly, minuscule droplets are dispersed in the air. This discovery was significant for pioneer surgeon and inventor Jan Mikulicz-Radecki and his parallel research which resulted in the advocacy of surgical gauze masks. Mikulicz-Radecki not only created the surgical masks but he was the first to use silk surgical gloves and cloth masks in operations in the late 1890s. Mikulicz-Radecki was heralded as 'a king in the kingdom of surgeons' who was one of the fathers of the world's modern surgery. Then, one hundred years later, in 1995, Professor Peter Tsai invented and patented the current N-95 face mask, which currently is the healthcare standard. In March 2020, Tsai came out of retirement to try to upgrade his N-95 mask to one that is reusable multiple times for the COVID-19 pandemic. 
We begin with one of the most iconic masks in theatre; the mask or masks in "Phantom of the Opera". In April 2020, Sir Andrew Lloyd Webber (composer and book) made available for free to live stream "The Phantom of the Opera at the Royal Albert Hall," an adaptation of Lloyd Webber's classic, award-winning 1986 musical. The Phantom's masks for this production (and the 1986 original show) were created by the esteemed Maria Elena Björnson. 
The iconic masks that "The Phantom (or the "Angel of Music")" don to cover up his deformity, personify his vulnerability and the unfairness he suffers for being seen as ugly. The Phantom is a renaissance man-- brilliant scholar, music teacher, architect, inventor, magician, and composer--who was born disfigured and shunned by humanity for his hideous face. The Phantom desperately wants to be loved as he is—flaws and all. 
In disguise and through dreams, The Phantom is a mentor to Christine Daae, a promising opera singer. He helps Christine develop her exquisite voice in hopes that one day she would grow to love him. The Phantom then composes an opera, 'Don Juan of Triumphant' for Christine to sing the lead in, debuting at the famous Paris Opéra. His opera is meant to bring recognition to Christine and to win her heart but to no avail. However, in the end, Christine's compassion, stating that The Phantom is not alone, and then kissing him - his first-ever act of kindness - transforms the Phantom. He understands that he cannot force someone to love him, even with reverential music. His song, the classic, 'His Music of the Night', portrays his love. In the finale, the Phantom magically disappears and only his mask is left. The Phantom has faced his aloneness, his fears, and found what is truly valuable in life - love.
The show starred the remarkable Ramin Karimloo as the Phantom, the acclaimed Hadley Fraser as Raoul (Vicomte de Chagny), the lovely voice of Sierra Marjory Boggess as Christine Daaé (the Phantom's and Raoul's love interest). Hal Prince directed the production. Charles Hart was the lyricist. Richard Stilgoe co-wrote the book. Gillian Lynne was instrumental in the choreography. Maria Elena Björnson also designed the 200 plus costumes and set.
From 'The Phantom of the Opera' to renowned masked vocalist, Orville Peck (who was one of the first to do a COVID-19 online concert in March) to TV's Emmy-winning show 'Masked Singer' to the extraordinary Björk (as shown above) to Universal Music Group's initiative of artist-branded face masks, under the banner "We've Got You Covered," celebrity artists' face masks continue to be on the cutting edge.
However, during the COVID-19 pandemic, artists and companies contribute their net proceeds from their masks to go to their charity partners to help others in need.
Historically, scientifically, medically, ritualistically, and artistically, the mask is promoted and perceived in multiple ways-life-saving, artistically, and humanistically.
Image accreditation: 'Masks in Souvenir Shop in Venice, Italy' by Diana Robinson.
Written by: Cynthia Allen.
Find out more
---